Join our team
Recruitment is a great sector. It is competitive and hugely rewarding.
Helping a candidate secure their dream job and supporting our clients to achieve their goals – this is what we love doing at Nicoll Curtin!
We are a diverse team, who is positive, success-driven and a fun lot to be around. We are always looking for amazing team members, so if you like what you see please get in touch with us today!
What our team have to say
What I love about this job is that there is always space for development and you always pick up new things in this market. I also really love our leaders' attitude. They are people who give the best advice to us, provide all the best tools so that we are successful. They are inspirational, fun and smart people; they always motivate us and are there for us.

Tamara Lazic

Team Leader, Serbia

In this job, every day is different. Since I started to work at Nicoll Curtin 4 years ago as a trainee, I've done things, that I never thought I would. Such as going to Mexico and winning the employee of the year award in the first year I joined. When I look back, my journey from trainee to principal consultant... It is worth everything.

Joshua Palsamy

Principal Consultant, Singapore

We have access to a lot of good tools and no one holds you back. It's a fun place to work. There are a lot of incentives. When we hit weekly targets, we leave early or go for a drink. We have lunch club and high flyers... I would say this is exceptional. We also have great clients, a really good culture in the office; people who are motivated and caring.

Theo Stergiou

Associate Director, UK and Ireland

We have exceptionally diverse teams; people coming from engineering, army, airlines industry, hospitality, banking... Coming from different backgrounds, they offer diverse perspectives and bring in varying working cultures. I don't manage everyone the same way; I tailor my approach based on the person. I also learn a lot from them. My team inspires me everyday.

Janelle Molina

Manager, Singapore

We have offices in 6 countries, but we work together as one big team. We maintain close communication across all locations, and everyone is aware of our common purpose and on board with our goals. Despite being a global team, we share a unique bond that was evident during our Awards Night in Dubai in January 2023. It was an amazing experience that brought us even closer together.

Gülnaz Can

Senior Marketing Manager, Global
Workplace & Culture
We want everyone come to work happy and ensure all voices are heard.
We value collaboration, diversity, and communication. We are proud to be part of team that shares the same ambition and supports each other. We work hard together, and we enjoy celebrating together too.
Our offices are in top locations and provide us with great systems and facilities to ensure that we have all that we need to succeed.
Perks & Benefits
Competitive salary and uncapped commision

Bespoke training and development

Transparent career progression

Mental health support

Generous annual leave

Travel and rent deposit loans

Annual Awards Evening

Lunch Club

High Flyers
Consultant career path
Whether that be a strong desire to lead a team, focus on being the biggest biller or moving internationally – we work with you to outline your path and tailor your training and development programme to ensure you achieve it.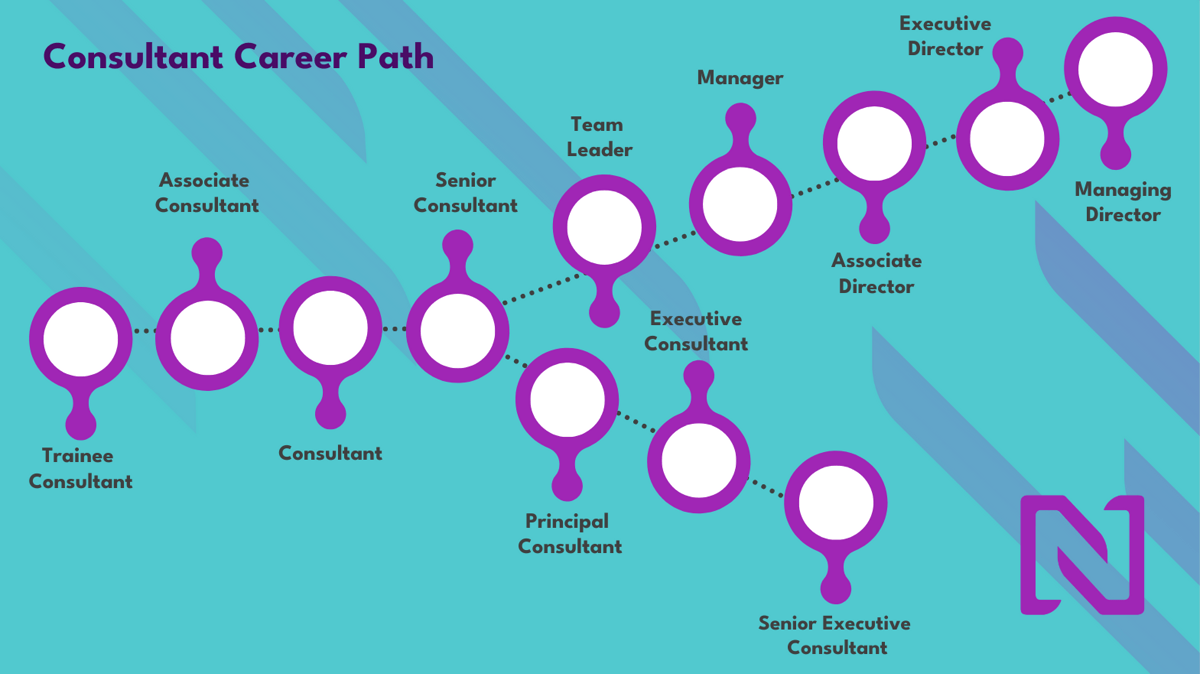 We offer two career tracks for the sales team: Management and Non-management with most consultants identifying their path at consultant or senior consultant stage.
Non-sales career path
For the non-sales team, we offer bespoke development plans based on individual career desires. This could look like moving from junior management accountant to head of finance within five years.
We want you to tell us your aspirations and we will work with you to make it happen.
Nicoll Curtin with numbers
Years of expertise in the tech field
Percentage of trainees being promoted within 6 months
Countries we've been to together
Average cup of coffee we drink a day
About Nicoll Curtin
Nicoll Curtin is a specialist recruitment agency with over 20 years of experience in connecting outstanding talent with industry leading companies within technology and change.
We work with our customers to understand their aspirations and to ensure we achieve those together.
And we love what we do! That's why we have been ranked in the 100 best companies to work for and that's why our Net Promoter Score is always above the industry standard.